LASER HAIR REMOVAL IN WARNER ROBINS GA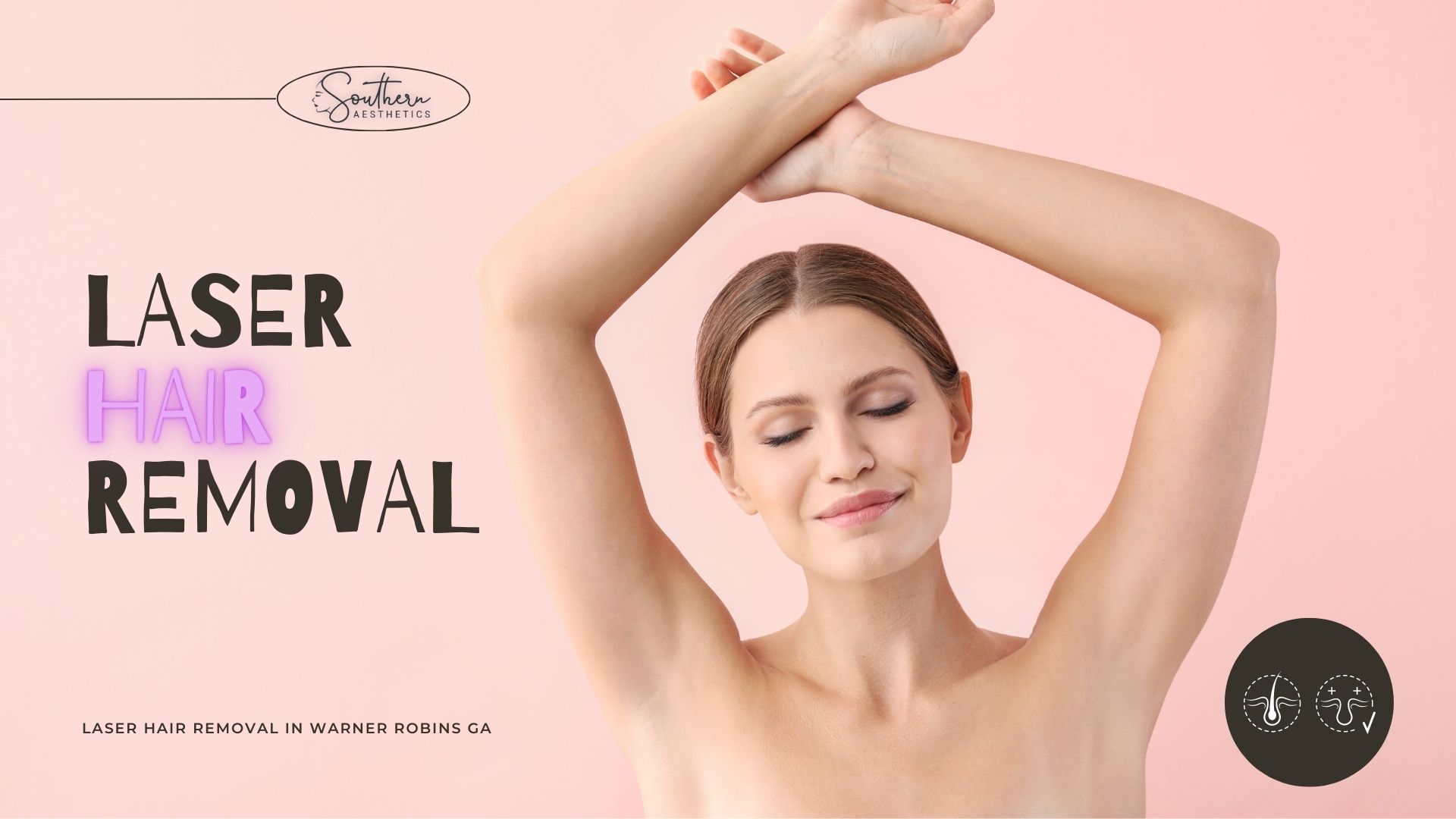 Summer, believe it or not, will be here before you know it. Warmer weather means wearing fewer clothes and, essentially, shaving more frequently. If you want to live a life without worrying about when you last waxed, plucked, or tweezed, Laser Hair Removal is the answer. And, if you want to be hair-free by summer, you need to start now. This blog will address all of your laser hair removal questions, such as "How long does it take to see laser hair removal results?" and a lot more. Let's get started.
You can also visit our store for products that can help.
What kind of laser does Southern Aesthetics use to remove hair?
There are countless laser hair removal devices on the market, but they are not all created equal. At Southern Aesthetics Med Spa, we are proud to offer the Nd:YAG and Alexandrite laser, which is a newer and more advanced laser than most med spas use. Unlike most devices that use heat, our laser is unique in that it uses a "Cool Laser." Previously, heat-powered lasers were only effective on lighter skin tones and could be extremely painful (especially in intimate areas). Our lasers are painless and work on ALL skin types and tones! In fact, our laser has ultrasonic benefits that we use in other treatments, such as Cool Laser Therapy.
What areas of the body can I get lasered?
Clients most commonly request laser hair removal in the bikini/brazilian area, armpits, legs, back, neck, abdomen, and chest. The benefit of laser hair removal is that it is non-invasive, making it suitable for use on most parts of the body. In short, if you have a problem with hair growth, we can probably fix it.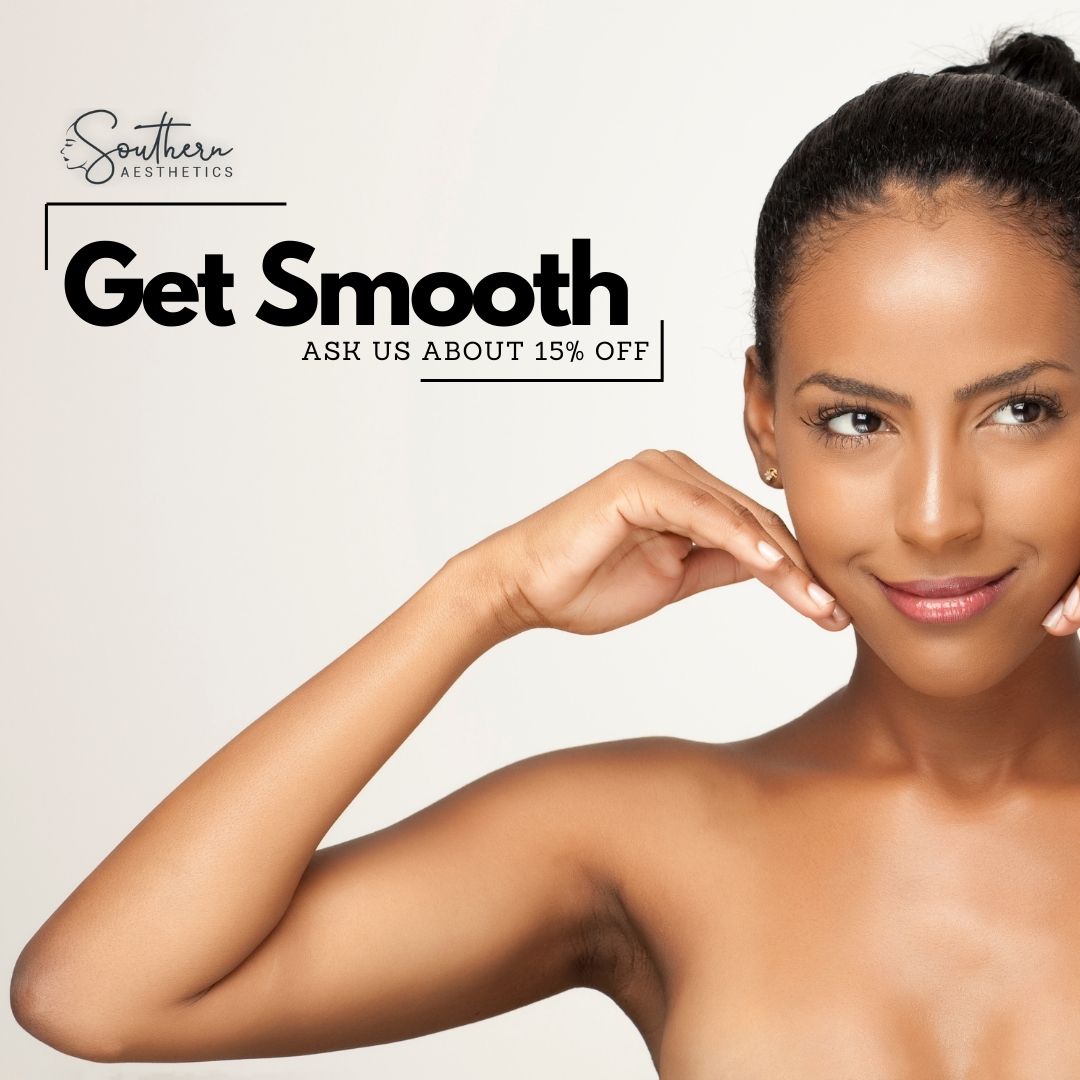 How long does it take to see laser hair removal results?
The average patient requires 3+ laser sessions to see noticeable results, which can take up to 4 months! So, if you want to be hairless by next year, now is the time to begin!
Because our hair follicles are all in different stages of growth at any given time, targeting every hair in a region requires multiple sessions. To achieve the best results, the average patient requires 5-8 treatment sessions. These sessions are scheduled every 4-6 weeks.
YES (and no). The best part about laser hair removal is that the results are permanent once the hair follicle is destroyed! When a new hair is killed, it rarely regrows. However, laser hair removal will not completely remove hair from an area. The majority of patients report 70-90% hair reduction in treated areas. Spare hairs that do appear are thinner and softer than they were previously. It also significantly reduces the likelihood of ingrown hairs!
How long do laser hair removal appointments last?
Treatment times range from 10-45 minutes depending on the body part, number of areas treated, and the size of your individual hair follicles. Laser hair removal is a quick procedure in comparison. Many patients fit them in during their lunch break!
Is there any recovery or after-treatment instructions?
There is no need for recovery! You can resume your normal routine immediately following treatment. In general, clients report only minor redness and no discomfort. We do recommend that you wear loose clothing and avoid the sun on the day of and after your appointment because treated skin is sensitive and prone to burning.
How much does laser hair removal cost at Southern Aesthetics?
Because of the size and time required to treat, pricing varies depending on the body part we are servicing. Laser hair removal at Southern Aesthetics begins at $150 for small areas. During a consultation, we can provide you with a price estimate based on the areas of interest. Our prices are also available on our laser page.
The best laser hair removal in Warner Robins,GA is at Southern Aesthetics
If you live in or near Warner Robins, Georgia and are interested in laser hair removal, Southern Aesthetics is the place to go. We not only use some of the most advanced lasers on the market, but our team of expert aesthetic professionals is also up to date on all the latest techniques to ensure that each of our treatments is as comfortable and effective as possible.
Call us or Make an appointment and we'll talk over a consultation. We'll figure out what's best for YOU based on your skin, hair growth patterns, lifestyle habits, and beauty goals. We'll see you soon!